Chapter Excerpts: Introduction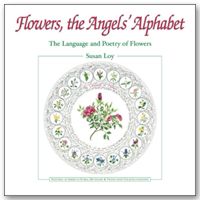 The following excerpts from "Flowers, the Angels' Alphabet" by Susan Loy are © 2001 by CSL Press and Susan Loy. All rights reserved.
INTRODUCTION
This book grew out of my use of the historic language of flowers to create a series of Literary Calligraphy® watercolor paintings. The language of flowers is the tradition of associating flowers with sentiments or virtues - the red rose signifies love; rosemary stands for remembrance. I was first attracted to the language of flowers by virtues such as strength of character and loyalty, and I have been charmed by meanings like "ambassador of love", "hope in adversity", and "return of happiness". The language of flowers provides a way to focus on a specific sentiment or virtue; the flower becomes an emblem for that quality or feeling.
The tradition of associating flowers and sentiments is ancient and universal. It was formalized during the Victorian era in England, France, and America with the publication of hundreds of language of flowers books during the nineteenth century. Language of flowers books contain a dictionary of flowers and their associated meanings, generally referred to as sentiments. They often include an additional dictionary of sentiments with their associated flowers. Most include sections of poetry either about flowers or about the sentiments they represent. Some books include botanical and horticultural information, plant lore, and other details about the plants. Some have floral calendars with flowers for each day of the year or sentiments for the week or month. A few include a fortune-telling system, referred to as a "floral oracle". Many books contain illustrations, typically one to six color plates.
"Flowers, the Angels' Alphabet" follows the tradition of the language of flowers book. It features a dictionary of the American language of flowers and twenty-eight color reproductions of my Literary Calligraphy® watercolor paintings - part of my language of flowers series. The illustrations highlight chapters on twenty-four individual flowers. Each chapter includes a reproduction of one of my original watercolors - a hand-lettered presentation of the flower's sentiment from the language of flowers as well as a poem or verse that expresses that sentiment. In this way, "the red rose means love" is accompanied by Robert Burns's poem, "My luve is like a red, red rose..." and surrounds a painting of the red rose. Four additional reproductions are large pieces that feature a total of 115 flowers. Three of these pieces contain alphabets of flowers, from Aster to Zinnia and Azalea to Zephyr Flower.
The dictionary of the American language of flowers has about 2,900 entries, which I have compiled from one dozen historic books published between 1832 and 1891, by American writers and publishers of the nineteenth century. It includes a vocabulary of some 1,400 flowers with their associated sentiments, and 1,500 sentiments and their associated flowers. I have edited the dictionary to eliminate some repetition, while retaining many of the subtle variations of meaning or flower type recorded by the nineteenth century writers.
When I first came to use the language of flowers for my art work, I was confronted with questions as to which flower a writer meant when he or she listed aster or bellflower, or what in the world is hackmetack? The appendix reflects my efforts to sort all of this out. Its 2,300 or so entries document the source of each flower's meaning as well as the botanical species identified by the writers of the nineteenth century. Because I use my dictionary to create alphabetic lists of flowers, the appendix includes extensive cross-references of flowers by common as well as botanical name. In addition to dictionaries from one dozen American books, it incorporates dictionaries from three British books by Shoberl, Tyas, and Greenaway, as well as a translation of Charlotte de Latour's listings from Le Langage des Fleurs.
I have compiled these dictionaries from books in my personal collection and from my research. I hand copied my first American dictionary in Alderman Library's rare book room at the University of Virginia. Since then I've searched for language of flowers books in antiquarian book shops throughout America, England, and Wales and, more recently, on the Internet.
The language of flowers has been called "the angels' alphabet", a vocabulary of sentiments and virtues.
"Flowers are the alphabet of angels' -- whereby
They write on hills and fields mysterious truths."
John S. Adams, Flora's Album
This book is dedicated to the angels' alphabet.
NEXT CHAPTER EXCERPT: HISTORY OF THE "LANGUAGE OF FLOWERS" BOOK
| | |
| --- | --- |
| Purchase "Flowers, the Angels' Alphabet"... | |

Our Privacy Policy guarantees a safe and secure transaction!

[ABOUT THE AUTHOR] [TABLE OF CONTENTS] [LIST OF ILLUSTRATIONS]
[BOOK CHAPTER EXCERPTS] [BOOK REVIEWS] [PRESS ROOM RESOURCES]
[LISTING OF EXCERPTS] [CSLPRESS HOME PAGE]