Book Department Selection!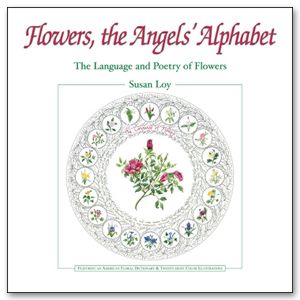 In "Flowers, the Angels' Alphabet," Susan Loy passionately integrates floral illustration and calligraphy while providing a comprehensive floral dictionary. You will discover:
139 floral drawings so intricate that each requires weeks, or often months, to complete.
42 favorite floral poems and texts from Shakespeare and Dickinson to the Bible.
A user-friendly floral dictionary with 2,900 entries featuring an American Language of Flowers.
Extensive information on flower origins, naming, cultivation, and habitat.
"Flowers, the Angels' Alphabet" will be of interest to gardeners and flower lovers wanting to know the meanings of the flowers around them. The comprehensive dictionary listings and extensive cross references will delight artists, designers, florists, gardeners, writers, and anyone who appreciates a lovely flower.
ISBN: 0-9702113-1-7
Library of Congress Catalog Card Number: 00-111571
Hard cover, 8-1/2" x 8-1/2", 224 pages.
Purchase "Flowers, the Angels' Alphabet"...
(Our Privacy Policy guarantees safe & secure transactions!)
Susan has been asked to provide information for the podcast/publication of "Stuff You Should Know"...
[View the Full Article as a Webpage]


[ABOUT THE AUTHOR]
[TABLE OF CONTENTS]
[LIST OF ILLUSTRATIONS]
[BOOK CHAPTER EXCERPTS]
[PRESS ROOM RESOURCES]