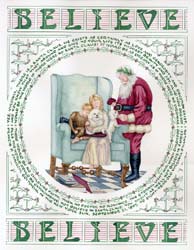 YES, VIRGINIA CHRISTMAS CARD
8 cards, 4-1/2" x 5-1/2" with 8 white envelopes.
When eight-year-old Virginia O'Hanlon wrote to the Editor of the New York Sun, "Please tell me the truth: is there a Santa Claus," the Editor, Francis P. Church, replied with this famous editorial, published September 21, 1897:
"Yes, Virginia, there is a Santa Claus. He exists as certainly as love and generosity and devotion exist, and you know that they abound and give to your life its highest beauty and joy. Alas! how dreary would be the world if there were no Santa Claus! It would be as dreary as if there were no Virginias. There would be no childlike faith, then, no poetry, no romance... The eternal light with which childhood fills the world would be extinguished. Not believe in Santa Claus! You might as well not believe in fairies."
Yes, Virginia card features New York Sun's famous 1897 editorial to an eight-year-old girl, "Yes, Virginia, there is a Santa Claus." Santa is pictured along with children, small dogs, the quotation, and the word Believe in large letters.
We have partnered with amazon.com ~ you will enjoy the same price, quicker delivery, and lower shipping rates than we can offer in-house.
Are you ready to order? Click the Amazon logo below...

---
Use our SEARCH ENGINE if you are you looking for a Literary Calligraphy painting with a specific word or phrase!
Return to complete Online Catalog
Show Schedule | New Items | Request Color Print Catalog