Biblical Selections - "White Pansies"
Phillipians 4:8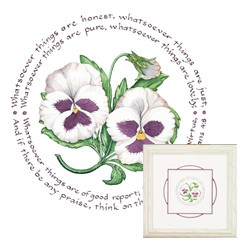 Susan Loy of Literary Calligraphy in Moneta, VA, joins text from literary classics or Biblical passages with delicate watercolor images and creates a unique bond between fine art and literature.
The words of advice in St. Paul's letter to the Philippians are an early treatise on the power of positive thinking.
"Whatsoever things are honest, whatsoever things are just,
Whatsoever things are pure, whatsoever things are lovely,
Whatsoever things are of good report; if there be any virtue,
And if there be any praise, think on these things."
Using the King James version, Susan hand lettered one of her favorite texts around her watercolor painting of lush white garden pansies. The word pansy is from the French word pensée, meaning thoughts, so named because of the pansy's habit of hanging its head as if in a pensive or thoughtful mood.
The cultivated or garden pansy, Viola wittrockiana, a hybrid of Viola tricolor and other species, is a relative late-comer to the garden. Beginning in 1810, Mr. T. Tomson, head gardener to British Lord Gambier, crossed and recrossed varieties of V. tricolor, V. altaica, and V. lutea, cultivating the first garden pansies. By 1830 hundreds of new varieties of garden pansies were available in Great Britain, and in North America they were available by the 1850's.
"White Pansies"
Image size: 3-3/4" diameter, Print Paper Size: 8" x 8", Frame Size: 10" x 10"
Gift wrap available. Please specify occasion.
Read the COMPLETE TEXT for "White Pansies"

| | |
| --- | --- |
| Are you ready to make a purchase? You can... | |
---
Use our SEARCH ENGINE if you are you looking for a Literary Calligraphy painting with a specific word or phrase!
Return to complete Online Catalog
Show Schedule | New Items | Request Color Print Catalog