Biblical Selections - "LIGHT OF THE WORLD"
From New Testament Matthew 5:14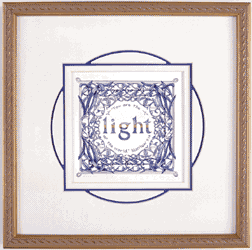 Susan Loy of Literary Calligraphy in Moneta, VA, joins text from literary classics or Biblical passages with delicate watercolor images and creates a unique bond between fine art and literature.
Jesus spoke these words near Capernaum on the Sea of Galilee at the Sermon on the Mount "You are the light of the world." Matthew 5:14 The design of this piece is reminiscent of classical illuminations. The text is hand-lettered in blue, and the word "light" is illuminated in shades of blue to yellow. The text is surrounded by a border of leaves, vines, and stems in many shades of navy, royal, and sky blue. Long narrow navy blue leaves gracefully fill the corners. Bright royal blue leaves spring up along a row of elegant stems. Tiny sky blue tendrils round out the pattern.
"Light of the World"
Signed prints produced from an original watercolor painting
Print Image Size: 4-1/8" x 4-1/8"
Print Paper Size: 8" x 8"
Frame Size: 10" x 10"
Read the COMPLETE TEXT for "Light of the World"

| | |
| --- | --- |
| Are you ready to make a purchase? You can... | |
---
Use our SEARCH ENGINE if you are you looking for a Literary Calligraphy painting with a specific word or phrase!
Return to complete Online Catalog
Show Schedule | New Items | Request Color Print Catalog