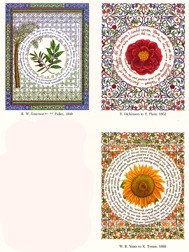 Stationery Selections - "LITERARY LETTERS ASSORTED NOTE CARDS"
Susan Loy of Literary Calligraphy in Moneta, VA, joins text from literary classics or Biblical passages with delicate watercolor images and creates a unique bond between fine art and literature.
Letters were used by Ralph Waldo Emerson to "celebrate...friendship." Susan Loy has chosen to illuminate texts taken from the actual correspondence of Emerson, Yeats, and Dickinson to create a unique, Literary Letters note card. Each is reproduced from an original watercolor painting by Susan Loy. She chose to illustrate and embellish the texts with elements suggested in or by the letters, such as sunflowers, laurel, and roses.
The inside of the card is blank to allow the writer to use Literary Letters note cards for any occasion. 9 acid-free cards & 9 linen envelopes. 3 each of 3 designs.
Designs included:
1) "To Celebrate Our Friendship" Emerson (6"x 6" print available)
View "To Celebrate Our Friendship" Emerson 6"x 6" print online.
2) "Sunflower" Yeats (6"x 6" print available)
View "Sunflower" Yeats 6"x 6" print online.
3) "Plush Rose" Dickinson (not currently available in other formats)
"All the letters I could write, Were not fair as this - Syllables of Velvet - Sentences of Plush - Depths of Ruby Undrained - Hid, Lip, for thee, Play it were a Humming Bird And sipped just Me."
[Reprinted by permission of the publishers from THE LETTERS OF EMILY DICKINSON edited by Thomas H. Johnson, Cambridge, Mass: The Belknap Press of Harvard University press, Copyright 1958, 1986 by the President and Fellows of Harvard College].
We have partnered with Amazon.com ~ you will enjoy the same price, quicker delivery, and lower shipping rates than we can offer in-house.

---
Use our SEARCH ENGINE if you are you looking for a Literary Calligraphy painting with a specific word or phrase!
Return to complete Online Catalog
Show Schedule | New Items | Request Color Print Catalog