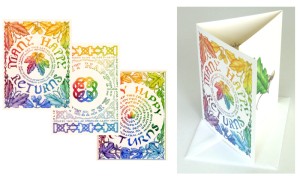 LITERARY BIRTHDAY CARDS
This Literary Birthday Card Assortment combines quotations from the letters of Jane Austen, Charles Dickens, and Louisa May Alcott with the hand-lettering and artistry of calligrapher Susan Loy. The assortment contains 3 beautiful birthday cards, 4.25 "x 5.75" with envelopes, printed in small batches in the USA.
Say goodbye to sappy greeting card sentiments; revel instead in the elegant prose of the giants of the 1800s, the golden age of letter writing. The theme of the cards is "Many Happy Returns," a sentiment that dates to Roman times; with three designs in each pack, you'll have enough for all of your literary friends. Each card design has three separate color plates, and the inside contains 160 – 186 words of historical information about the birthday letter and the author. The package includes three tri-fold cards, printed on heavy 130# ivory card stock, and 3 envelopes.
As an example, to create the Dickens card, Loy hand-lettered a birthday letter that Dickens wrote to his daughter Mary on March 4, 1847: "I cannot let this letter go into the post without wishing you many many happy returns of your birthday." The artist created a unique motif of oak leaves and acorns to adorn the Dickens letter. The Austen card features oak leaves and a birthday letter to her sister Cassandra dated 1813. The third card features an interlocking Celtic design and "many happy returns" from Louisa May Alcott, Jane Austen, and George Eliot. The Alcott letter, dated 1870, wishes, "A happy birthday, and many of 'em!" The custom of wishing "many happy returns" is ancient. English essayist Joseph Addison wrote in 1716 in The Freeholder, "The usual salutation to a man upon his birth-day among the ancient Romans was Multos et foelices; in which they wished him many happy Returns of it.
Each Literary Birthday card that you send will be unique and sophisticated while supporting a genuine American small business.
Click for a... Large View


We have partnered with Amazon.com ~ you will enjoy the same price, quicker delivery, and lower shipping rates than we can offer in-house.

Are you ready to order? Click the Amazon logo below...

---
Use our SEARCH ENGINE if you are you looking for a Literary Calligraphy painting with a specific word or phrase!
Return to complete Online Catalog
Show Schedule | New Items | Request Color Print Catalog