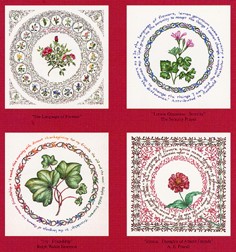 FLORAL NOTE CARDS
Susan Loy of Literary Calligraphy in Moneta, VA, joins text from literary classics or Biblical passages with delicate watercolor images and creates a unique bond between fine art and literature.
Four popular images from the Language of Flowers Series (included in book) have been reproduced as note cards.
Designs include "Language of Flowers" (book cover), "Ivy: Friendship", "Lemon Geranium: Serenity", and "Zinnia: Thoughts of Absent Friends".
Each clear vinyl box contains 12 blank cards (5" x 5"), 12 envelopes. 3 each of 4 designs in each box.


We have partnered with Amazon.com ~ you will enjoy the same price, quicker delivery, and lower shipping rates than we can offer in-house.

Are you ready to order? Click the Amazon logo below...

---
Use our SEARCH ENGINE if you are you looking for a Literary Calligraphy painting with a specific word or phrase!
Return to complete Online Catalog
Show Schedule | New Items | Request Color Print Catalog