Stationery Selections - Sympathy Card - "To Every Thing There Is A Season"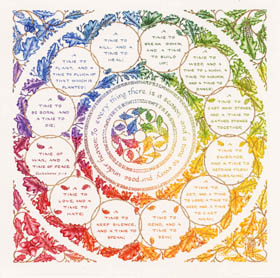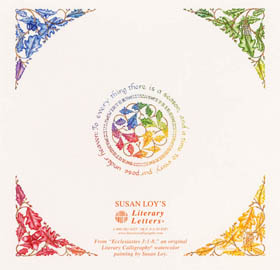 Card has text from Ecclesiastes 3: 1-8: "To everything there is a season, and a time to every purpose under heaven: a time to be born, and a time to die; a time to plant, and a time to pluck up that which is planted; a time to kill, and a time to heal; a time to break down, and a time to build up; a time to weep, and a time to laugh; a time to mourn, and a time to dance; a time to cast away stones, and a time to gather stones together; a time to embrace, and a time to refrain from embracing; a time to get, and a time to lose; a time to keep, and a time to cast away; a time to rend, and a time to sew; a time to keep silence, and a time to speak; a time to love, and a time to hate; a time of war, and a time of peace."
Susan Loy has calligraphically enlivened the verse by the addition of subtle seasonal color changes of the mighty oak tree, Quercus Robur, from bud to acorn. Moving from the icy blues of winter, through the warming green of spring and summer, and to the harvest yellows and golds of autumn, both the inspirational text and the arboreal illustration are harmoniously intertwined. Susan chose the white oak and the species Q. robur because this tree is native to the North Africa and West Asia. Moldenke, author of Plants of the Bible, identifies 24 kinds of oak in the Holy Land. Packet contains 5 square blank cards and envelopes.
This design is featured on signed print, "Ecclesiastes 3:1-8" http://www.literarycalligraphy.com/biblical/eccl3.html
This design is one of four designs in the "Old Testament Note Card Assortment"
We have partnered with Amazon.com ~ you will enjoy the same price, quicker delivery, and lower shipping rates than we can offer in-house.

---
Use our SEARCH ENGINE if you are you looking for a Literary Calligraphy painting with a specific word or phrase!
Return to complete Online Catalog
Show Schedule | New Items | Request Color Print Catalog