Philosophy Selections - "THOREAU: TO LIVE DELIBERATELY"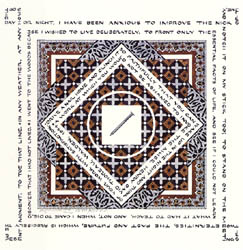 In any weather, at any hour of the day or night, I have been anxious to improve the nick of time, and notch it on my stick too; to stand on the meeting of two eternities, the past and future, which is precisely the present moment; to toe that line.
I went to the woods because I wished to live deliberately, to front only the essential facts of life, and see if I could not learn what it had to teach, and not, when I came to die, discover that I had not lived.
Drive a nail home and clinch it so faithfully that you can wake up in the night and think of your work with satisfaction, a work at which you would not be ashamed to invoke the Muse. ~ Henry David Thoreau, Walden
Texts from the revelatory Walden are framed with bold geometric designs which Susan completed 150 years, to the day, after Henry David Thoreau moved to Walden Pond on July 4, 1845. In colors of black, grey, and brown, the print includes three lines from Walden, published in 1854, that implore us to live deliberately, improve the nick of time, and to regard our work with satisfaction.

"Thoreau: To Live Deliberately" Henry David Thoreau, print by Susan Loy
Edition limited to 2,000 signed & numbered prints from Susan Loy's original watercolor painting.
Image size 9"x9", Paper size: 11-1/2"x11", Frame size: 16"x16"
Gift wrap available. Please specify occasion.
Read the COMPLETE TEXT for "Thoreau: To Live Deliberately"
We have partnered with amazon.com ~ you will enjoy the same price, quicker delivery, and lower shipping rates than we can offer in-house. Are you ready to order? Click the Amazon logo below...

---
Use our SEARCH ENGINE if you are you looking for a Literary Calligraphy painting with a specific word or phrase!
Return to complete Online Catalog
Show Schedule | New Items | Request Color Print Catalog
Contact Us | Frequently Asked Questions | Home
Help spread the word about Literary Calligraphy on Facebook! Become a fan by clicking Like on our Page...