Philosophy Selections - "A VIRTUOUS RED MAPLE"
Henry David Thoreau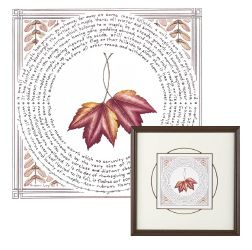 Susan Loy of Literary Calligraphy in Moneta, VA, joins text from literary classics or Biblical passages with delicate watercolor images and creates a unique bond between fine art and literature.
A tribute to virtuous labor, this print combines a text from Thoreau's journal with a painting of glorious red maple leaves and seeds. The text is an anthem for unsung heroes having a moment to shine; the maple, a metaphor for virtuous labor.
The text is hand-lettered in brown watercolors, surrounding Susan's painting of two red maple leaves, tinged with orange and presenting the full spectrum of red from burgundy to scarlet.
"A Virtuous Red Maple"
Signed prints from an original watercolor painting
Image size 6"x6", Paper size 10"x10", Frame size: 12"x12"
Gift wrap available. Please specify occasion.
Read the COMPLETE TEXT for "A Virtuous Red Maple"

| | |
| --- | --- |
| Are you ready to make a purchase? You can... | |
---
Use our SEARCH ENGINE if you are you looking for a Literary Calligraphy painting with a specific word or phrase!
Return to complete Online Catalog
Show Schedule | New Items | Request Color Print Catalog