Philosophy Selections - "THE PREAMBLE"
~ The Constitution of the United States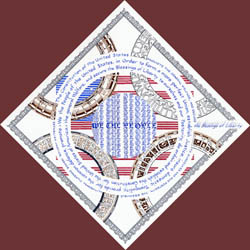 Signed prints produced from an original watercolor painting.
"We the People of the United States, in Order to form a more perfect Union, establish Justice, insure domestic Tranquility, provide for the common defense, promote the general Welfare, and secure the Blessings of Liberty to ourselves and our Posterity, do ordain and establish this Constitution for the United States of America."
The words to "The Preamble" are lettered in blue in two concentric circles that surround a repetition of the phrase, "We the People," also in blue, on a background of red, white, and blue stripes. Additional words and phrases from "The Preamble" are repeated throughout the piece. "The Blessings of Liberty" is lettered in shimmering shades of blue. The words "liberty," "justice," and "tranquility" are illuminated in brown and black and form semi-circles around the main text. Another semi-circle is made up of symbols of American freedom and justice. A geometric border made up of fine black lines completes the piece, which hangs on the diagonal.
Susan Loy began lettering "The Preamble" for a demonstration at an art festival, not realizing that it would turn into a larger project to letter the entire Constitution, along with the Bill of Rights and amendments. She was immediately smitten with the document and plans to letter the Constitution in separate parts, representing the separation of powers. "The Preamble" is the first installment.
---
Susan Loy has recast the Preamble to the Constitution in a striking geometric design in brown and black, and of course, red, white, and blue. The opening phrase, "We the People," is at the center of the painting surrounded by interlocking graphics representing "liberty," "justice," and "tranquility."
"The Preamble"
Image size = 13-1/2" x 13-1/2" on the diagonal (9-1/2" x 9-1/2" square)
Paper size = 15-1/2" x 15-1/2" on the diagonal (11" x 11" square)
Frame size = 23" x 23" on the diagonal (16" x 16" square)
Gift wrap available. Please specify occasion.
Read the COMPLETE TEXT for "The Preamble"

| | |
| --- | --- |
| Are you ready to make a purchase? You can... | |
---
Use our SEARCH ENGINE if you are you looking for a Literary Calligraphy painting with a specific word or phrase!
Return to complete Online Catalog
Show Schedule | New Items | Request Color Print Catalog