Philosophy Selections - "SUCCESS DEPENDS ON THE AIM" by Ralph Waldo Emerson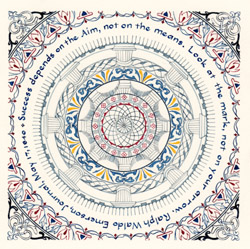 "Success depends on the Aim, not on the means. Look at the mark, not on your arrow." Ralph Waldo Emerson, Journal, May 17, 1840
Emerson's journal entry reminds that one of the secrets of success is to stay focused on your aim or goal and not to be distracted by the means. Susan Loy lettered this entry from Emerson's journal in a blue circle that forms one of a series of rings in shades of blue and gray with accents of red, yellow, and black. Intricate drawings of architectural pillars and arches, drawn in circular perspective, form a dome with a focus on the center, creating the illusion of height. The architectural inspiration came from the first line of the May 17, 1840 journal entry, "In architecture, height and mass have a wonderful effect because they suggest immediately a relation to the sphere on which the structure stands, and so to the gravitating system." The message of this piece is to stay focused and aim high.
Emerson had a lot to say on the subject of success. He wrote about it in his journals, in his letters and in his lectures; he wrote an entire essay, titled "Success," from Society and Solitude. However, Ralph Waldo Emerson did not write the essay, "What Is Success?," although it is widely misattributed to him. Bessie A. Stanley wrote the essay, "What Is Success?" that begins, "He has achieved success, who has lived well, laughed often, and loved much..." Stanley wrote the essay for a contest sponsored by Brown Book Magazine of Boston. The essay was later published in the Lincoln Sentinel on November 30, 1905 and in other newspapers and was published in More Heart Throbs in 1911; for more information about this essay, refer to Susan's blog, Who Wrote What Is Success?

Signed prints produced from the original watercolor.
"SUCCESS DEPENDS ON THE AIM"
Print Image Size: 6" x 6"
Print Paper Size: 10" x 10"
Frame Size: 12" x 12" square
Gift wrap available. Please specify occasion.
Read the COMPLETE TEXT for "SUCCESS DEPENDS ON THE AIM"

| | |
| --- | --- |
| Are you ready to make a purchase? You can... | |
---
Use our SEARCH ENGINE if you are you looking for a Literary Calligraphy painting with a specific word or phrase!
Return to complete Online Catalog
Show Schedule | New Items | Request Color Print Catalog