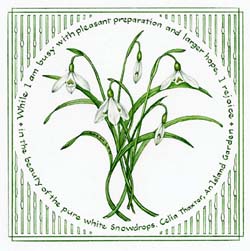 Snowdrops are one of the first flowers of the year and have been known to push their pure white blossoms up through the snow. The snowdrop means hope in the Victorian language of flowers and is the flower of the month for January. The common snowdrop, Galanthus nivalis, gets its name from the Greek gala, milk, and anthos, flower, referring to the milk-white color of the flower. Nivalis means of the snow.
Susan painted the pure snowdrops with their green markings on the tips of the inner petals, set off by slender green leaves and surrounded by the text and border in green, creating a striking study in green and white.
American poet and writer, Celia Thaxter was born in 1835 in Portsmouth, New Hampshire and spent much of her life on Appledore Island, one of the Isles of Shoals off the New Hampshire coast, where her family ran a summer hotel. An Island Garden was published in 1894 and illustrated by American Impressionist Childe Hassam, who spent summers on Appledore.
"While I am busy with pleasant preparation and larger hope, I rejoice in the beauty of the pure white Snowdrops." Celia Thaxter, An Island Garden

January Birth Flower "Snowdrops: Hope"
Print Image Size: 4-1/2" x 4-1/2"
Print Paper Size: 8" x 8"
Frame Size: 10" x 10"
Gift wrap available. Please specify occasion.
Read the COMPLETE TEXT for "Snowdrops: Hope"

| | |
| --- | --- |
| Are you ready to make a purchase? You can... | |
---
Use our SEARCH ENGINE if you are you looking for a Literary Calligraphy painting with a specific word or phrase!
Return to complete Online Catalog
Show Schedule | New Items | Request Color Print Catalog