June Birth Flowers Selection - "RED ROSEBUDS"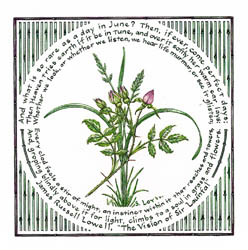 The rose is known as "the queen of flowers" and is the flower of the month for June. Roses have been known since the beginning of civilization and grow nearly everywhere, except in Arctic regions and along the equator. Susan painted tiny red rose buds, which mean pure and lovely in the Victorian Language of Flowers.
"And what is so rare as a day in June? Then, if ever, come perfect days;
Then Heaven tries earth if it be in tune, and over it softly her warm ear lays:
Whether we look, or whether we listen, we hear life murmur, or see it glisten;
Every clod feels a stir of might, an instinct within it that reaches and towers,
And, groping blindly above it for light, climbs to a soul in grass and flowers."
~ James Russell Lowell, "The Vision of Sir Launfal"
Born in 1819, James Russell Lowell was an American poet, editor, and diplomat. He became the first editor of the Atlantic Monthly in 1857. "The Vision of Sir Launfal" was published in 1848. Sir Launfal was one of the Knights of the Round Table in Arthurian legend; the vision describes a perfect day in June.

June Birth Flower "Red Rosebuds"
Text by James Russell Lowell
Print Image Size: 4-1/2" x 4-1/2"
Print Paper Size: 8" x 8"
Frame Size: 10" x 10"
Gift wrap available. Please specify occasion.
Read the COMPLETE TEXT for "Red Rosebuds"

| | |
| --- | --- |
| Are you ready to make a purchase? You can... | |
---
Use our SEARCH ENGINE if you are you looking for a Literary Calligraphy painting with a specific word or phrase!
Return to complete Online Catalog
Show Schedule | New Items | Request Color Print Catalog