August Birth Flowers Selection - "POPPIES"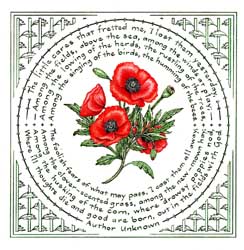 Bright red poppies are surrounded by a lovely poem that suggests losing our "little cares" and casting away our "foolish fears" to "clover-scented grass...where poppies drowse."
Poppies are the flower of August in the old English flower calendar. The field or corn poppy, Papaver rhoeas, means evanescent pleasure in the Victorian language of flowers. Papaver is the Latin name for poppy; rhoeas is Greek, possibly from the root rho, red.
"The little cares that fretted me, I lost them yesterday.
Among the fields, above the sea, among the winds at play;
Among the lowing of the herds, the rustling of the trees,
Among the singing of the birds, the humming of the bees.
The foolish fears of what may pass, I cast them all away,
Among the clover-scented grass, among the new-mown hay;
Among the husking of the corn, where drowsy poppies nod,
Where ill thoughts die and good are born, out in the fields with God."
~ Author Unknown
This poem is often erroneously attributed to British poet Elizabeth Barrett Browning (1806-1861) or American poet Louise Imogen Guiney (1861-1920), but its author is unknown. It was published in Heart Throbs, Volume II in 1911.

August Birth Flower "Poppies"
Author Unknown
Signed prints produced from the original watercolor
Image size: 4-1/2" x 4-1/2"
Paper size: 8" x 8"
Frame size: 10" x 10"
Gift wrap available. Please specify occasion.
Read the COMPLETE TEXT for "Poppies"
---
Use our SEARCH ENGINE if you are you looking for a Literary Calligraphy painting with a specific word or phrase!
Return to complete Online Catalog
Show Schedule | New Items | Request Color Print Catalog