July Birth Flowers Selection - "LARKSPUR"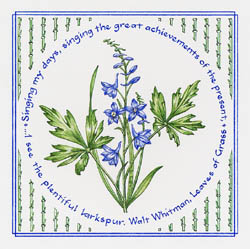 Larkspur is the flower of the month for July and means levity or swiftness in the Victorian Language of Flowers. Larkspur was so-named because the flower's spur resembles the claw of a lark. There are several species of wild larkspur native to North America, including Delphinium exaltatum, tall larkspur, which Susan painted, surrounded by Whitman's lines from Leaves of Grass, lettered in blue, and a border of blue and green.
"Singing my days, singing the great achievements of the present, ... I see the plentiful larkspur."
~ Walt Whitman, Leaves of Grass
These lines were published as the title poem, "Passage to India," in a supplement to Leaves of Grass in 1871 and then in the 1881-edition of Leaves of Grass.
In his book of prose, Specimen Days & Collect, on August 25, 1878, Whitman recorded seeing larkspur among "these perennial blossoms and friendly weeds I have made acquaintance with hereabout one season or another in my walks."

July Birth Flower "Larkspur"
Text by Walt Whitman
Print Image Size: 4-1/2" x 4-1/2"
Print Paper Size: 8" x 8"
Frame Size: 10" x 10"
Gift wrap available. Please specify occasion.
Read the COMPLETE TEXT for "Larkspur"

| | |
| --- | --- |
| Are you ready to make a purchase? You can... | |
---
Use our SEARCH ENGINE if you are you looking for a Literary Calligraphy painting with a specific word or phrase!
Return to complete Online Catalog
Show Schedule | New Items | Request Color Print Catalog