October Birth Flowers Selection - "HOPS"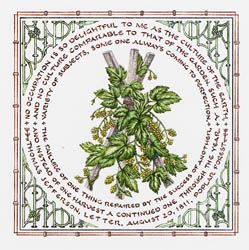 Hop is the flower of the month for October and means injustice in the Victorian Language of Flowers. Hop, Humulus lupulus, was used as a medicinal herb in ancient Egypt and Rome. Beer making began in Bavaria, where the earliest known hop garden was established in 736.
The hop is the female flower, a cone-like catkin called a strobile. Susan painted hops with its green palmate leaves and yellowish-green stroibiles, twining up three gray hop poles, and surrounded by the lines from Jefferson's letter in brown and a border of green and brown.
"No occupation is so delightful to me as the culture of the earth, and no culture comparable to that of the garden. Such a variety of subjects, some one always coming to perfection, the failure of one thing repaired by the success of another, and instead of one harvest a continued one through the year."
~ Thomas Jefferson, letter, August 20, 1811, Poplar Forest
Jefferson wrote these famous lines about gardening in a letter to Charles Willson Peale, from Poplar Forest, his farm in Bedford County, Virginia. Hop production began in 1794 at Jefferson's Monticello.

October Birth Flower "Hops"
Text by Thomas Jefferson
Print Image Size: 4-1/2" x 4-1/2"
Print Paper Size: 8" x 8"
Frame Size: 10" x 10"
Gift wrap available. Please specify occasion.
Read the COMPLETE TEXT for "Hops"

| | |
| --- | --- |
| Are you ready to make a purchase? You can... | |
---
Use our SEARCH ENGINE if you are you looking for a Literary Calligraphy painting with a specific word or phrase!
Return to complete Online Catalog
Show Schedule | New Items | Request Color Print Catalog