April Birth Flowers Selection - "DAISIES"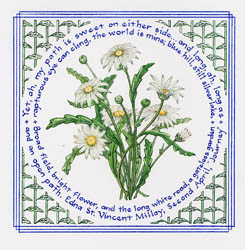 Daisy is the flower of the month for April. The name "daisy" refers to many different flowers of the Composite family. The English daisy is Bellis perennis and means innocence in the Victorian Language of Flowers. The American ox-eye daisy is Chrysanthemum leucanthemum and means patience. Susan painted ox-eye daisies, bright white flowers of the field with yellow centers, surrounding them with the lines from Millay's poem, lettered in blue, and a border of blue and green.
"Yet, ah, my path is sweet on either side... and long, ah, long as rapturous eye can cling, the world is mine: blue hill, still silver lake, Broad field, bright flower, and the long white road, a gateless garden, and an open path."
~ Edna St. Vincent Millay, Second April, "Journey"
Edna St. Vincent Millay was the first woman to receive a Pulitzer prize for poetry. Born in Rockland, Maine in 1892, she was influenced by Shakespeare, Keats, and Hopkins and shared with them an interest in flora and fauna. Her poem "Journey" was published in 1921 in Second April and describes the beauty we may see on our life's journey and the freedom to find it.

April Birth Flower "Daisies"
Text from Edna St. Vincent Millay
Signed prints produced from the original watercolor
Print Image Size: 4-1/2" x 4-1/2"
Print Paper Size: 8" x 8"
Frame Size: 10" x 10"
Gift wrap available. Please specify occasion.
Read the COMPLETE TEXT for "Daisies"

| | |
| --- | --- |
| Are you ready to make a purchase? You can... | |
---
Use our SEARCH ENGINE if you are you looking for a Literary Calligraphy painting with a specific word or phrase!
Return to complete Online Catalog
Show Schedule | New Items | Request Color Print Catalog