November Birth Flowers Selection - "Chrysanthemums"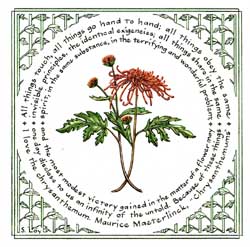 Chrysanthemums were so beloved by Belgium writer, Maurice Maeterlinck, that he devoted an entire essay to the flower. Maeterlinck (1862-1949) was awarded the Nobel Prize for literature in 1911. His essay, "Chrysanthemums," was published in Old Fashioned Flowers in 1905 by Dodd, Mead & Company, New York, who does not cite the translator.
The lovely and cheerful quotation speaks to the interconnectedness of all things.
"All things touch, all things go hand to hand; all things obey the same  invisible principles, the identical exigencies; all things share in the same  spirit, in the same substance, in the terrifying and wonderful problem;  and the most modest victory gained in the matter of a flower may  one day disclose to us an infinity of the untold. Because of these things  I love the chrysanthemum."
Chrysanthemum is the flower of the month for November in most American and British flower calendars; it is the flower for October in the Chinese calendar and for September in the Japanese. From the Greek words chrysos, meaning gold and anthos, meaning flower, chrysanthemum comprises about 150 species. The autumn florist's chrysanthemum is a blend of C. indicum and C. morifolium. In the Victorian language of flowers chrysanthemums had several meanings according to species. The Chinese chrysanthemum, C. indicum, means loveliness and cheerfulness

November Birth Flower "Chrysanthemums"
Text by Maurice Maeterlinck
Signed prints produced from the original watercolor
Image size: 4-1/2" x 4-1/2"
Paper size: 8" x 8"
Frame size: 10" x 10"
Gift wrap available. Please specify occasion.
Read the COMPLETE TEXT for "Chrysanthemums"

| | |
| --- | --- |
| Are you ready to make a purchase? You can... | |
---
Use our SEARCH ENGINE if you are you looking for a Literary Calligraphy painting with a specific word or phrase!
Return to complete Online Catalog
Show Schedule | New Items | Request Color Print Catalog