Bird Selections- "MY SYMPHONY"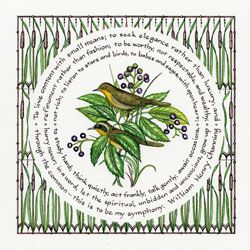 Channing wrote an extended version of this text in a letter to Margaret Fuller in 1841; a version, included in an Arthur Brisbane editorial in the New York Evening Journal in 1920, is the one most often published and the one Susan chose for her text.
William Henry Channing was a Unitarian minister who was chaplain to Congress and friends with Ralph Waldo Emerson. His writings include a biography of his uncle, William Ellery Channing.
Susan hand lettered the text in three concentric circles, surrounding a painting of two common yellowthroats (Geothlypis trichas), perching among common elder (Sambucus canadensis) and common sedge (Carex vulgaris). A geometric border of common cattail (Typha latifolia) surrounds the text and painting in shades of green and brown.
"My Symphony"
Signed prints produced from the original watercolor
Print Image Size: 6" x 6"
Print Paper Size: 10" x 10"
Frame Size: 12" x 12"
Gift wrap available. Please specify occasion.
Read the COMPLETE TEXT for "My Symphony"

| | |
| --- | --- |
| Are you ready to make a purchase? You can... | |
---
Use our SEARCH ENGINE if you are you looking for a Literary Calligraphy painting with a specific word or phrase!
Return to complete Online Catalog
Show Schedule | New Items | Request Color Print Catalog