Bird Selections- "TO MY SISTER"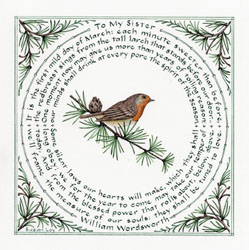 British poet William Wordsworth wrote this poem for his sister to recall a day in which their souls were "tuned to love." William and Dorothy Wordsworth are famous literary siblings.
William wrote, "Sister of my Soul! Elsewhere have streams of gratitude been breath'd to thee for all the early tenderness which I from thee imbibed." The "elsewhere" he refers to includes "Tintern Abbey," four other poems, as well as "To My Sister," composed in March 1798 and published in Lyrical Ballads.
Wordsworth's redbreast would have been the European robin, Erithacus rubecula, one of Britain's most dearly loved birds. The European larch is Larix decidua, one of the first trees to turn green in late March.
"To My Sister"
Signed prints produced from the original watercolor
Print Image Size: 6" x 6"
Print Paper Size: 10" x 10"
Gift wrap available. Please specify occasion.
Read the COMPLETE TEXT for "To My Sister"
We have partnered with Amazon.com ~ you will enjoy the same price, quicker delivery, and lower shipping rates than we can offer in-house.

---
Use our SEARCH ENGINE if you are you looking for a Literary Calligraphy painting with a specific word or phrase!
Return to complete Online Catalog
Show Schedule | New Items | Request Color Print Catalog